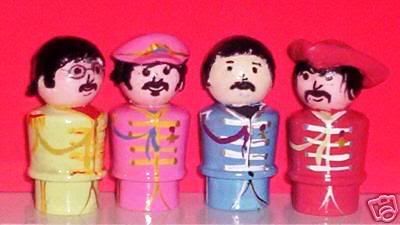 Hand-painted Fisher-Price Little People, found on
eBay
.
Forty years ago today (in Britain) and tomorrow (in the United States), the Beatles released what many consider their magnum opus:
Sgt. Pepper's Lonely Hearts Club Band
.
As with any other milestone, the LP is subject to much debate (see the "Is Sgt. Pepper Overrated?" post below). But, whether or not you agree that it's the best album of all-time, or even the best Beatles album, there's no denying it's among the most influential pop LPs ever--and one worth talking a bit about.
So, check out the posts here this weekend and form your own opinions about where the album belongs on the "all-time best" lists. And consider giving the album a commemorative spin, trying to put yourself in the frame of mind of what it must've sounded like for the first time, all those years ago.