Friday, October 12, 2007
Jon's Random Acts of Geekery
displays
some great
found-on-eBay Super Friends items
.
---------------------
Not surprisingly, Sleestak over at Lady, That's My Skull, is
not happy
about the
upcoming "Land of the Lost" flick starring Will Ferrell
.
----------------------
Why I hate modern superhero comics.
Check out the silly, oversexualized, twisted women in jep image from this upcoming issues of Justice League of America. We get improbable female anatomy from three helpful angles. Art by Ed Benes & Sandra Hope.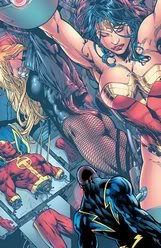 -------------------------
Stereogum has
posted
a
tribute to R.E.M.'s Automatic for the People album
with tracks by the Meat Puppets, Blitzen Trapper, Dr. Dog and others.
--------------------------
Actor Fisher Stevens is
joining
the
cast of "Lost."
Spoilers may apply.
---------------------------
British comic Simon Pegg will
star
as Scotty in the new Star Trek film.
Pegg, 37, found fame in TV comedy Spaced and went on to find big screen success by writing and starring in Shaun of the Dead and Hot Fuzz.

His other films include Run Fat Boy Run and the forthcoming How to Lose Friends and Alienate People.

Abrams and Pegg previously worked together on Mission: Impossible III, starring Tom Cruise.
----------------------------
Dial B for Blog
re-presents
a
classic Vampirella tale
.
Thursday, October 11, 2007
Deal alert:
Just in time for Halloween, Amazon is offering
50 percent off hundreds of horror DVDs
. Check out these categories:
* After Dark Horror Festival


* Asian Extreme & J-Horror


* Creature Features & Monster Movies


* Cult Favorites & Midnight Movies


* Gialli & Italian Horror


* Masters Of Horror(The Series)


* Slashers & Teen Terror


* Things that go bump in the night!


* Vampires Werewolves & Zombies (oh my!)
-----------------
Remember,
it's never too early to start a kid drinking cola.
------------------
Whoa! That's super icky!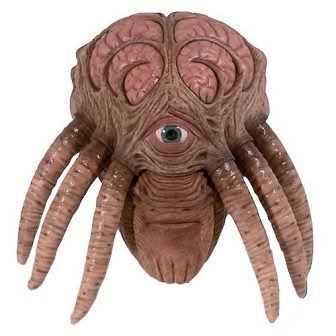 Doctor Who Dalek Voice Changer MaskBest Doctor Who Sites.
-------------------
From
Booksteve
:
An awkward moment for the Man of Steel
.
--------------------
Paul McCartney and troubled British rocker Pete Doherty
chat
on the UK
Guardian
's music podcast.
---------------------
Comic Book Resources has
pics
from this weekend's upcoming episodes of
"The Batman" and "Legion of Superheroes."
Click the links to order any of these figures from CMD Store: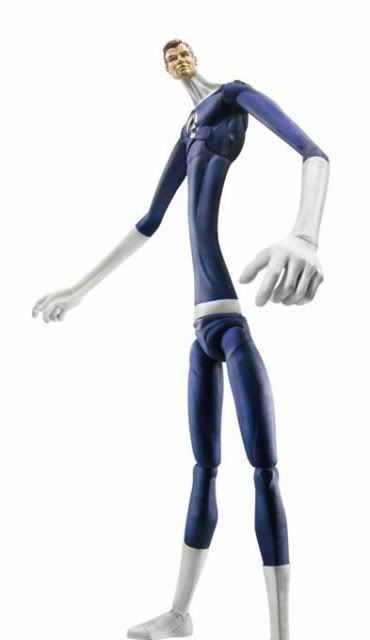 --
Mr. Fantastic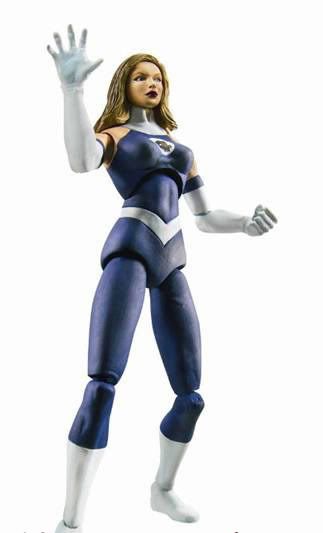 --
Invisible Woman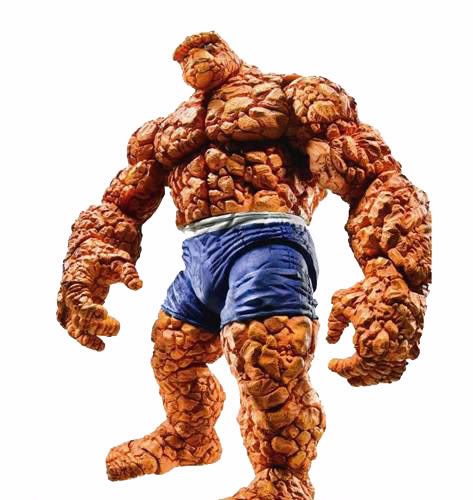 --
The Thing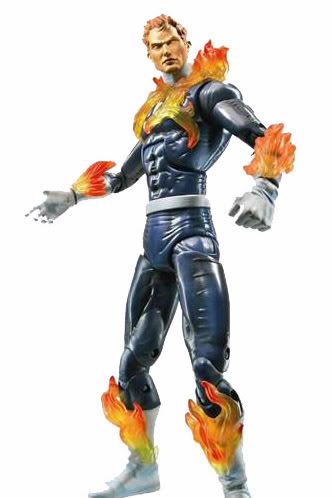 --
Human Torch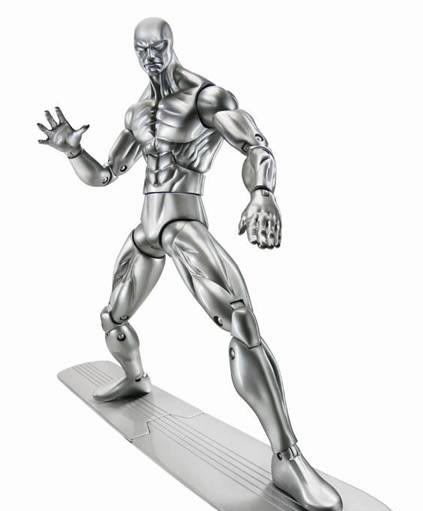 --
Silver Surfer
--
Dr. Doom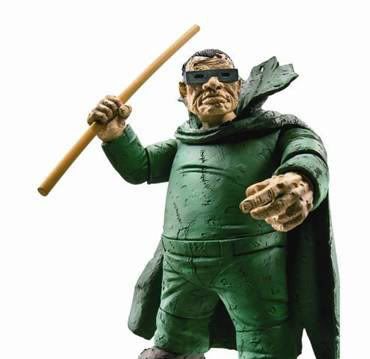 --
Mole Man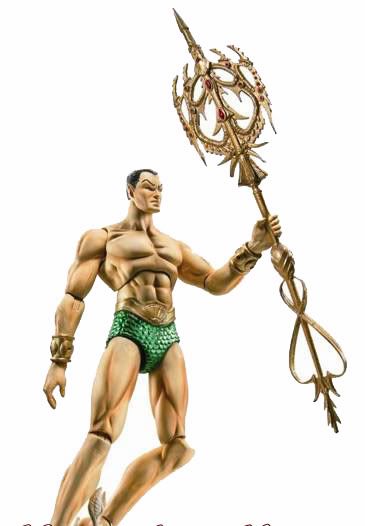 --
Sub-Mariner
Click the links to pre-order any of these figures from CMD Store: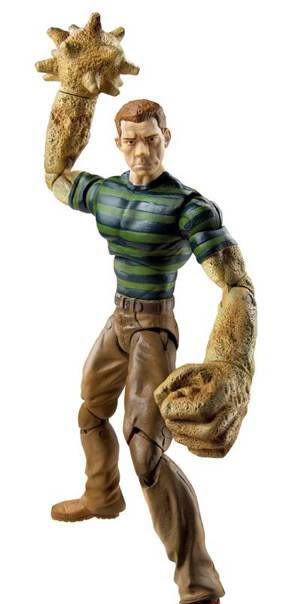 --
Sandman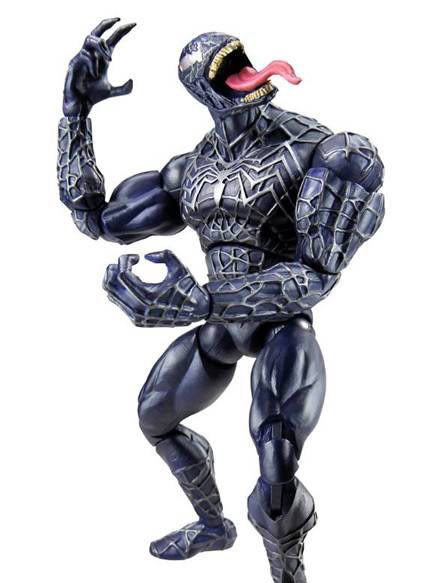 --
Venom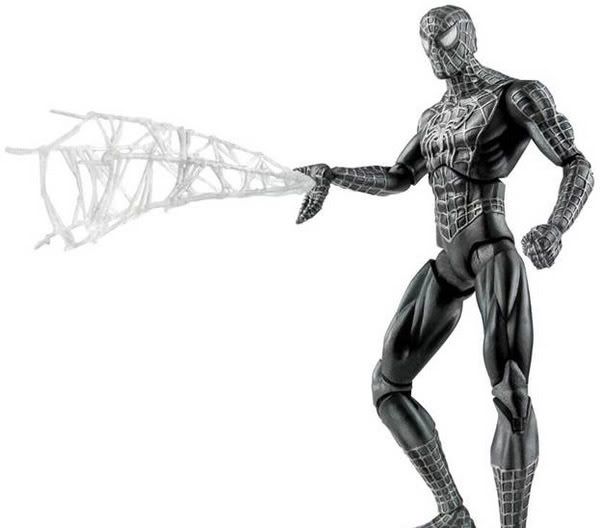 --
Spider-Man (black costume)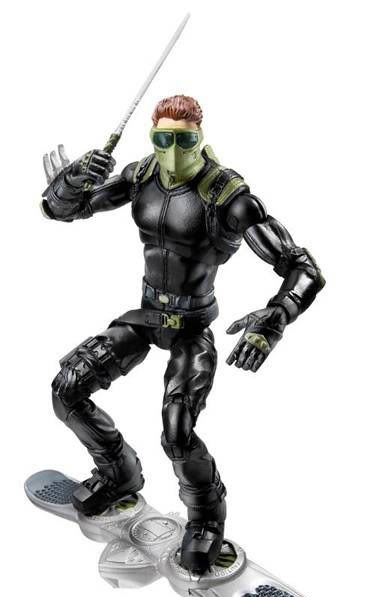 --
New Goblin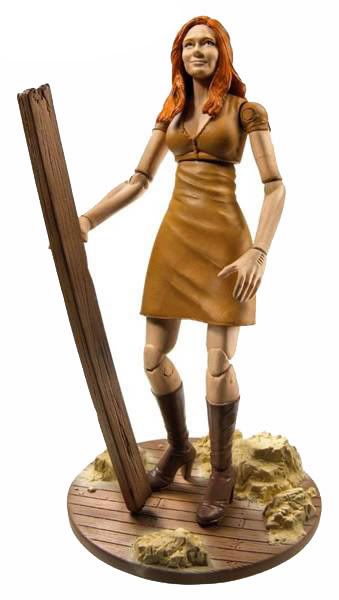 --
Mary Jane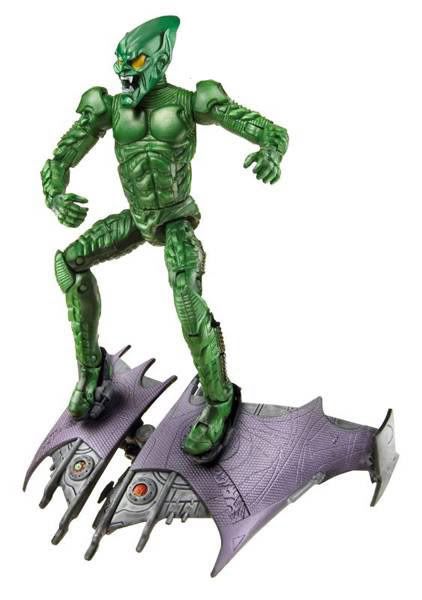 --
Green Goblin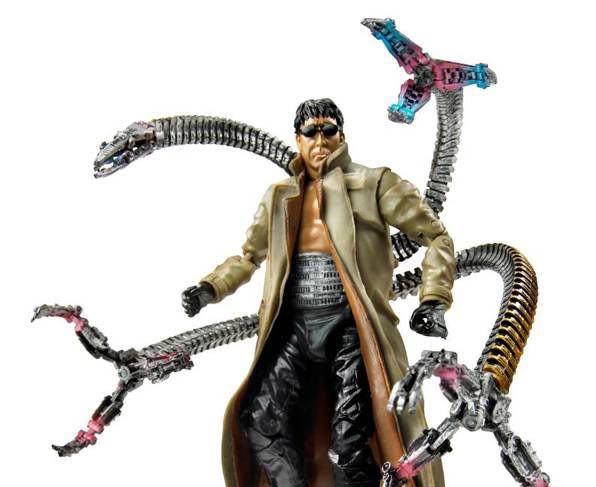 --
Dr. Octopus
Wednesday, October 10, 2007
Will Ferrell will
star in
a
big-screen adaptation of "Land of the Lost."
The Universal Pictures project, which is set to go before cameras in March, follows a disgraced paleontologist, his enthusiastic assistant and a macho tour guide who find themselves in a strange world inhabited by dinosaurs, monkey-people and evil reptilian "Sleestaks" following a disastrous "routine expedition."

...The TV series, from producers Sid and Marty Krofft ("H.R. Pufnstuf," "Sigmund and the Sea Monsters"), aired on NBC from 1974 to 1976.

Marty Krofft, who will serve as a producer with his older brother, praised the writers of the feature script, Chris Henchy and Dennis McNicholas.

"What they did is keep the integrity of the show, but they made it very funny for Will. The adventure is all there. There are going to be 50 Sleestaks!"
------------------------
Jack Kirby's "Hunger Dogs" graphic novel
, a 1980s attempt to tie up the storylines from his 1970s "New Gods" comics, will be restored, expanded and included in the fourth and final volume of DC Comics'
New Gods Omnibus
series.
Here's DC's press release:
March, 2008, will see the release of JACK KIRBY'S FOURTH WORLD OMNIBUS VOL.
4, the final hardcover collection in this highly acclaimed series.
Highlighting this volume will be THE HUNGER DOGS, with 24 pages of art
restored to the original inks by Mike Royer.

"We are excited to share with readers Kirby's original vision for the epic's
end in Vol. 4 of the FOURTH WORLD OMNIBUS series," says Georg Brewer, VP —
Design and DC Direct Creative. "This collection features 24 pages at the
size that Kirby penciled them, the way they looked before being altered to
fit the larger trim size of the HUNGER DOGS graphic novel. Faithfully inked
by Mike Royer, these pages are incorporated within the HUNGER DOGS story,
which is completely re-colored with a sensibility consistent with the
previous OMNIBUS hard covers. Along with the Fourth World character entries
he drew for WHO'S WHO: THE DEFINITIVE DIRECTORY OF THE DC UNIVERSE, these
exciting, rarely seen aspects of Kirby's work and this important story make
this a must-have for every serious comics collector."

In addition to THE HUNGER DOGS and art from WHO'S WHO, the JACK KIRBY'S
FOURTH WORLD OMNIBUS VOL. 4 HC will collect MISTER MIRACLE #10-18, FOREVER
PEOPLE #11, NEW GODS #11 and the 48-page story "Even Gods Must Die,"
originally published in 1984's NEW GODS #6.
-----------------------
A Pennsylvania man
found
a
near-mint copy of Detective Comics #27
--that's the one featuring the first appearance of Batman--in his attic.
Collector Todd McDevitt said the Batman issue he bought is worth about $250,000, but he won't say exactly how much he paid or who sold it to him.

"It was a typical story of someone cleaning up junk in their attic and finding an old comic book and wondering if this was one of those ones that was worth a lot of money," McDevitt told the Beaver County Times.
Man, I wish I had a magic attic.
Best Batman Sites.
------------------------
Here are covers for the
next three Doctor Who novels
.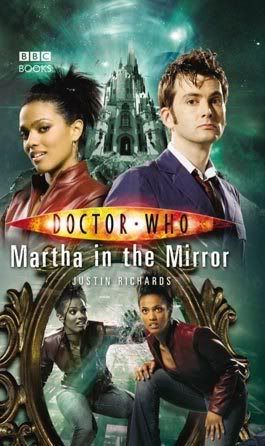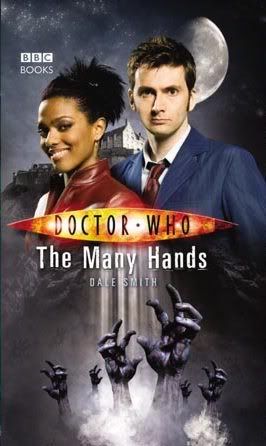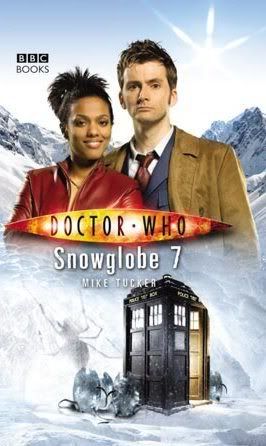 Best Doctor Who Sites.
------------------------
Actor Eric Bana will
play the villain
in the
upcoming Star Trek film
.
Plot details and even character descriptions of the J.J. Abrams-helmed project are being kept under wraps.

Anton Yelchin, Zachary Quinto, Zoe Saldana and Leonard Nimoy have already boarded the USS Enterprise. Casting is under way in New York and London, and Abrams had been expected to pursue bigger-name actors for the roles of the villain and the Federation captain, the latter of which remains unfilled.
---------------------------
Comic Book Resources has
pics from the next two episodes of "Heroes."Best Heroes Sites.
---------------------------
New York Magazine
presents
the
10 Most Incomprehensible Bob Dylan interviews
.
Best Bob Dylan Sites.
See complete lists:
DC Archives
DC Showcase
DC Trade Paperbacks
Marvel Masterworks
Marvel Essentials
Marvel Trade PaperbacksClick links to order discounted graphic novels from Amazon.Comics shipping Oct. 10, 2007
DARK HORSE COMICS
SEP060034
APPLESEED HYPERNOTES
TP $14.95
AUG070016 BPRD KILLING GROUND #3 (OF 5) $2.99
AUG070013 DEADLANDER #1 (OF 4) $2.99
AUG070012 LIVING WITH THE DEAD #1 (OF 3) $2.99
APR070051 OH MY GODDESS VOL 27 RTL TP $10.95
DEC060044 STAR WARS DARK TIMES #5 (OF 5) $2.99
AUG078096 UMBRELLA ACADEMY APOCALYPSE SUITE #1 (OF 6) 2ND PTG VAR CVR $2.99
DC COMICS
AUG070231 BATMAN CONFIDENTIAL #10 $2.99
DEC050253
BIRDS OF PREY BETWEEN DARK AND DAWN
TP $14.99
AUG070218 BLACK ADAM THE DARK AGE #3 (OF 6) $2.99
AUG070220 BOOSTER GOLD #3 $2.99
JUL070271 CANON VOL 3 $9.99
AUG070203 CAPTAIN CARROT AND THE FINAL ARK #1 (OF 3) $2.99
JUL070272 CIPHER VOL 9 $9.99
AUG070195 COUNTDOWN 29 $2.99
AUG070207 GREEN ARROW BLACK CANARY #1 $3.50
AUG070208 GREEN ARROW BLACK CANARY VAR ED #1 $3.50
AUG070225 GREEN LANTERN #24 $2.99
JUL070273 I HATE YOU MORE THAN ANYONE VOL 2 $9.99
AUG070248 JLA CLASSIFIED #44 $2.99
AUG070290 JUSTICE LEAGUE UNLIMITED #38 $2.25
JUL070252 MYSTERY IN SPACE VOL 1 TP $17.99
JUL070253
NIGHTWING LOVE AND WAR
TP $14.99
JUN070213
SHAZAM MONSTER SOCIETY OF EVIL DELUXE HC
$29.99
AUG070230 SIMON DARK #1 $2.99
AUG070315 STORMWATCH PHD #12 $2.99
AUG070217 SUICIDE SQUAD RAISE THE FLAG #2 (OF 8) $2.99
MAR060302 SUPERGIRL POWER TP $14.99
AUG070237 SUPERMAN #668 $2.99
AUG070261 WONDER GIRL #2 (OF 6) $2.99
AUG070262 WONDER WOMAN #13 $2.99
IMAGE COMICS
JUN071891 ART OF GREG CAPULLO SC $24.99
JUN071934 FIRST BORN KEOWN CVR A #2 (OF 3) $2.99
JUN071935 FIRST BORN SEJIC CVR B #2 (OF 3) $2.99
AUG071984 GRAVESLINGER #1 (OF 4) $3.50
JUL071954 HIDING IN TIME #3 (OF 4) $3.50
APR071874 PVP #35 (NOTE PRICE) $3.50
JUL071959 SORROW #2 (OF 4) $2.99
MAY071895 WITCHBLADE #110 $2.99
MARVEL COMICS
AUG072205 AMAZING SPIDER-GIRL #13 $2.99
JUL078209 AMAZING SPIDER-GIRL ZOMBIE VAR #13 (PP #783) $2.99
AUG072219 CIVIL WAR CHRONICLES #4 $4.99
JUN041647 ESSENTIAL IRON FIST VOL 1 TP $16.99
JUL072156 FANTASTIC FOUR #550 $2.99
JUL072140 FRIENDLY NEIGHBORHOOD SPIDER-MAN #24 OMD $3.99
AUG072220 GHOST RIDER #16 $2.99
JUL072165 HEROES FOR HIRE #14 $2.99
DEC062380 IRON MAN EXECUTE PROGRAM TP $14.99
AUG072236 MARVEL ADVENTURES HULK #4 $2.99
AUG072299
MARVEL ADVENTURES IRON MAN VOL 1
DIGEST TP $6.99
AUG072244 NEW AVENGERS #35 $2.99
AUG072247 NEW AVENGERS TRANSFORMERS #4 (OF 4) $2.99
AUG072248 NEW WARRIORS #5 CWI $2.99
AUG072209 NOVA #7 $2.99
AUG072230 PUNISHER WAR JOURNAL #12 WWH $3.99
JUL078210 PUNISHER WAR JOURNAL ZOMBIE VAR #12 (PP #783) $3.99
JUN072182 RUNAWAYS #28 $2.99
JUL078098 RUNAWAYS ZOMBIE VAR #28 (PP #781) $2.99
AUG072306 SPIDER-MAN FANTASTIC FOUR SILVER RAGE TP $10.99
AUG072203 SPIDER-MAN RED SONJA #3 (OF 5) $2.99
AUG072263 WOLVERINE #58 $2.99
JUL078211 WOLVERINE ZOMBIE VAR #58 (PP #783) $2.99
JUL072163 WORLD WAR HULK FRONT LINE #5 (OF 6) WWH $2.99
AUG072260 X-FACTOR #24 $2.99
AUG072308
X-FACTOR VISIONARIES PETER DAVID VOL 3
TP $15.99
AUG072271 X-MEN DIE BY THE SWORD #1 (OF 5) $2.99
WIZARD ENTERTAINMENT
AUG073261 TOYFARE ALIEN VS PREDATOR 2 CVR #124 $4.99
COMICS
AUG073664 ARCHAIC #10 (NOTE PRICE) $3.50
AUG073382 ARCHIE #579 $2.25
AUG073725 BEOWULF #2 $3.99
AUG073731 BEOWULF IDW TP $17.99
JUL073275 CLOCKWORK GIRL #1 (OF 4) $0.99
JUN073584 DISNEYS DUCKTALES BY MARV WOLFMAN SCROOGES QUEST TP $15.99
AUG073554 DRAFTED #2 $3.50
AUG073319 EATING STEVE GN $5.95
JUL073879 ESSEX COUNTY VOL 2 GHOST STORIES $14.95
MAY073150 GARGOYLES #6 $3.95
JUN073464 GI JOE STORM SHADOW #4 $3.50
AUG073389 HOLIDAY FUN DIGEST #12 $2.49
AUG073321 IGOR FIXED BY FRANKENSTEINS GN $5.95
JUL073877 INTO THE DUST #2 (OF 12) $2.99
AUG073390 JUGHEAD #185 $2.25
JUL073810 KING LEAR GN $15.95
JUN073409 NEW BATTLESTAR GALACTICA SEASON ZERO FOIL CVR #2 PI
JUN073491 PS238 #26 $2.99
AUG073396 SONIC X #25 $2.25
APR074028 STREET FIGHTER II MANGA VOL 1 GN $12.95
AUG073495 SWORD OF RED SONJA DOOM O/T GODS #1 $3.50
AUG073398 TALES FROM RIVERDALE DIGEST #24 $2.49
JUL073249 WONDERLAND #5 $3.95
MAGAZINES
JUN074028 JACK KIRBY COLLECTOR #49 $9.95
AUG074137 ROUGH STUFF #6 $6.95
RELATED MERCHANDISE
APR074378 KANJI DE MANGA VOL 5 $9.99