Wednesday, November 07, 2007
TV Guide
sports four
"Heroes"-themed covers
by different comics artists this week. Here they are:
Jim Lee
Phil Jimenez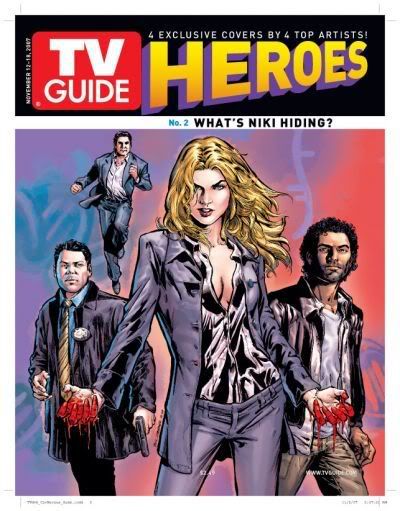 Michael Turner
Tim Sale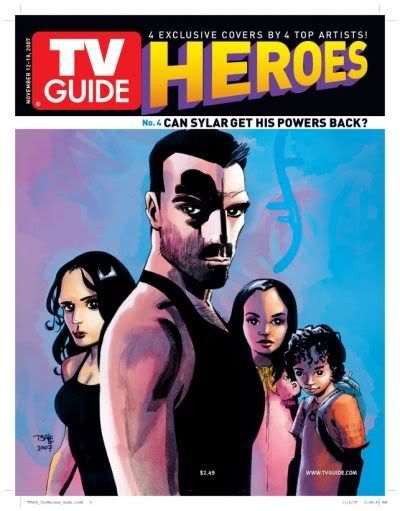 ----------------
Sharity
: Old
Sherlock Holmes radio shows
.
-----------------
Variety
takes a
look
at the
soundtrack for "I'm Not Here,"
the odd Bob Dylan bio-pic featuring various different actors and actresses, including Cate Blanchett, playing the Bard.
There's one Dylan outtake on the soundtrack CD, plus covers by various artists, including Sonic Youth, Cat Power, Mason Jennings, Eddie Vedder and Jeff Tweedy.
------------------
Do you look weird?
You could be an extra in the new "Star Trek" film!
The invitation to the casting session said: "This is an epic project and we are looking for the most intriguing and interesting faces to integrate in this film."

Some of the facial features the studio is looking for include:

--extremely large heads and foreheads
--wide or close-set eyes
--over or undersized ears and/or nose
--facial deformities
--pronounced cheekbones
--ultra perfect or ultra plain-looking people

"Everyone must be thin, athletic, fit; wardrobe will be form-fitting. All hair lengths on males and females welcome," the casting invitation added.
--------------------------
Cool Toy Review has the
skinny
on
upcoming Marvel Legends action figures
from Hasbro. The lineup includes:
--Adam Warlock
--Silver Savage
--Spiral
--U.S. Agent
--Union Jack
--Black Suit Spider-Man
And, this part hasn't been confirmed, Blastaar build-a-figure.
No pics yet.
Tuesday, November 06, 2007
Paul Norris,
co-creator of Aquaman
, has passed away,
reports
comics historian/writer Mark Evanier.
-------------------
A
"lost" Stan Lee/Jack Kirby "Fantastic Four" story
appears
as an on-disk bonus item in the new "Fantastic Four: Rise of the Silver Surfer" DVD. Marvel Comics announced some time ago that a print version of the book was also in the works, but a release date hasn't been announced.
-------------------
Here's a pic of
Doctor Whos 5 and 10
on the cover of Britain's Radio Times. Actors Peter Davison and David Tennant are starring together in a BBC "Children in Need" TV special.
--------------------
Speaking of Doctor Who, some of the Doctor's
British comic book adventures
from the 1970s and 80s will be seeing print again. Details from publisher IDW:
When Doctor Who's TARDIS lands in U.S. comic book stores in December, the stories will be classic, and the scarf will be color: rescuing a catalogue of beloved tales from the timestream, IDW Publishing will release Doctor Who Classics, printing in all-new color the black-and-white adventures that originally appeared only in Great Britain as part of Doctor Who Magazine in 1979 and 1980.

The stories feature the incarnation of the character very familiar to American audiences, Tom Baker's Fourth Doctor, with new state-of-the-art colors over art by Dave Gibbons, who drew the British magazine's main comic strip for most of the issues, from #1 until #69, before going on to co-create the industry-shaping graphic novel Watchmen.

Writing the stories are celebrated authors Pat Mills, nicknamed "the godfather of British comics," and Scotland-based John Wagner, both of whom are given credit for revitalizing British boys' comics in the 1970s. The new, modern colors will be handled by Charlie Kirchoff, with new covers recreating old scenes provided by Joe Corroney, the fan-favorite artist from IDW's Star Trek books.

"This series is appealing to fans because it's rare for these stories to have been available to readers in the United States," says Chris Ryall, IDW editor-in-chief and publisher. "A lot of people have never seen these comics at all, let alone in the full, vibrant colors that Gibbons' art deserves."

IDW will follow the launch of its classics reprints a month later with all-new monthly adventures of the latest Doctor, the Tenth version of the character portrayed by David Tennant in the BBC revamp of the show that drew raves from British critics and fans when it debuted in 2005.

"We're giving fans the best of the old and the best of the new," says Ryall. "The first series looks back at most popular Doctor of the past, and the upcoming series focuses on the best of the present."

Doctor Who Classics #1 will be released in December.
------------------------
Deal alert
: Amazon is offering a bunch of
TV on DVD
season sets for under $25 each, including "Bewitched," "I Dream of Jeannie" and more.
Monday, November 05, 2007
Radiohead
is issuing a box set that collects their first six albums, along with a USB "stick" containing the same via its
Web site
. Plans to release the band's newest album,
In Rainbows
, on CD in the U.S. haven't been announced yet, but it's also available online.
-------------------------
Take a look at the new look Sontarans, to appear on the fourth season of
"Doctor Who."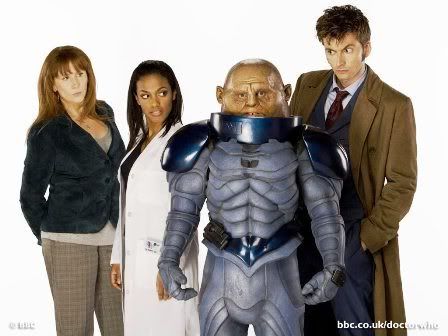 Details from the BBC:
The Doctor and Martha Jones are to be reunited in an explosive new adventure, which hits our screens next year on BBC One.

Martha comes face to face with Donna Noble for the first time as they unite against the Sontarans, one of The Doctor's oldest enemies.

"I am delighted to be back filming on Doctor Who with David and Catherine," said Freema. "Martha Jones returns in a fantastic storyline and the fans will get to see her in a whole new light!"

The Sontarans first appeared on Doctor Who in 1973 when they met Jon Pertwee's Doctor. Former Young Ones star Christopher Ryan guest stars as the Head of the Sontarans.

Other guest stars in the new series include Felicity Kendal, Sarah Lancashire, Fenella Woolgar, Tim McInnerny, Peter Capaldi, Phil Davis and Tracey Childs.
--------------------------
Booksteve
digs
"Girl from U.N.C.L.E." Stefanie Powers
.
--------------------------
Speaking of U.N.C.L.E.,
Turner Classic Movies is airing eight "Man from U.N.C.L.E" movies tomorrow
(Tuesday, Nov. 6). These are feature-length adventures culled from TV series episodes.
Here's the lineup (all times Eastern):
6:00 AM To Trap a Spy (1964)
Secret agents try to stop the assassination of an African leader touring the U.S. Cast: Robert Vaughn, David McCallum, Luciana Paluzzi.s Dir: Don Medford.
7:45 AM One Of Our Spies Is Missing (1966)
An enemy agent appeals to an aging British statesman with promises of a youth potion. Cast: Robert Vaughn, David McCallum, Vera Miles. Dir: E. Darrell Hallenbeck.
9:30 AM One Spy Too Many (1966)
U.N.C.L.E. agents Napoleon Solo and Ilya Kuryakin try to keep a madman from conquering the world. Cast: Robert Vaughn, David McCallum, Rip Torn. Dir: Joseph Sargent.
11:15 AM Spy With My Face, The (1966)
Enemy agents turn one of their own into a dead ringer for Man from U.N.C.L.E. Napoleon Solo. Cast: Robert Vaughn, David McCallum, Senta Berger. Dir: John Newland.
12:45 PM Karate Killers, The (1967)
The men from U.N.C.L.E. fight off karate-chopping henchmen to track down a secret formula. Cast: Robert Vaughn, David McCallum, Joan Crawford. Dir: Barry Shear.
2:30 PM Spy in the Green Hat, The (1966)
Secret agents fight to keep a criminal mastermind from altering the course of the Gulf Stream. Cast: Robert Vaughn, David McCallum, Jack Palance. Dir: Joseph Sargent.
4:15 PM Helicopter Spies, The (1968)
Two government agents try to stop a band of would-be sorcerers from using a deadly weapon. Cast: Robert Vaughn, David McCallum, Bradford Dillman. Dir: Boris Segal.
6:00 PM How To Steal The World (1968)
Secret agent Napoleon Solo fights to stop a top-secret plot to conquer the world. Cast: Robert Vaughn, David McCallum, Eleanor Parker. Dir: Sutton Roley.
-----------------------------
"Ever Present Past,"
Paul McCartney's newest single
, is out today in various formats, all including live "B-sides." You can download 'em from iTunes.
'Ever Present Past', the second single lifted from Paul's current album Memory Almost Full is released today. Check out the links and formats below.
CD Single - 1. Ever Present Past 2. Only Mama Knows (Live from Amoeba) 3. Dance Tonight (Live from Amoeba)

7" Vinyl - Side A Ever Present Past / Side B House Of Wax (Live from Amoeba)

Digital Bundle - 1. Ever Present Past 2. Only Mama Knows (Live From Amoeba) 3. That Was Me (Live From Amoeba)
---------------------------------
Deal alert:
Amazon is offering big discounts on
recent DVDs
, including "Borat," 28 Days Later," and more.